Just STUCK! When Misery Loves Company…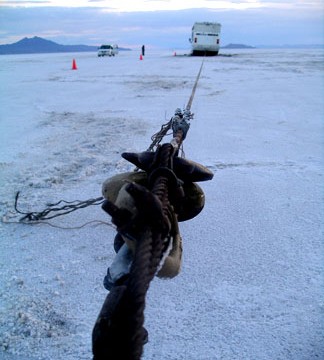 You may or may not have seen this one… RV STUCK on the salt flats during a Speedweek event. Probably not an impossible "Oops" moment to imagine, but it's what happens next that's an eye catcher!
This RV broke through the salt flats, was stuck up to the axle, and of course needed a tow. A tow was called in and a large wrecker and a flatbed came out to do the job. That should be the end of the story, right? Wrong…
These two rescue vehicles met the same fate as the RV and became STUCK as well. Next, "Big Blue" was called in to save the day. Guess they should have started the rescue with a vehicle that has the word "Big" in its name. NOPE…
Now the yellow wrecker, flatbed, and Big Blue we're all staying a while. All STUCK!
Here's the reported stats: The yellow wrecker was at a 40 degree angle with 6ft of mud up at its left side cab door. It's right tires were about a foot off the ground. Big Blue created a 4ft deep trench about 100 ft long, trying its best to drag the wrecker out. Yes, as you may have guessed, Big Blue was now stuck about 4ft into the mud as well. To add insult to injury, poor Big Blue damaged its winch and tow cable which were now tightly stretched and unable to be released. GOOD GRIEF!
Utah Salt Flats Racing Association
Utah Salt Flats Racing Association
So, apparently after another night, success finally was reached. How did it all end? Well, a LARGER WRECKER that had a THIRD AXLE ON THE REAR pulled out the flatbed, the yellow wrecker, Big Blue, and the long awaiting RV! How's that for a true campfire story? Cool.
Utah Salt Flats Racing Association
Utah Salt Flats Racing Association