Gingerbread Camper! Serious Candy Art & Fun DIY Recipe!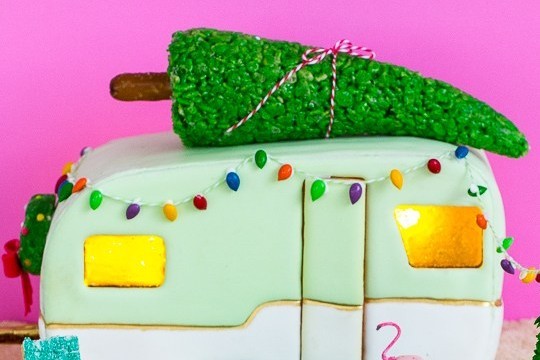 photos by: sugar & cloth / Jared Smith

Want to try a different gingerbread house this holiday season?  We saw this cool RETRO CAMPER GINGERBREAD HOUSE and were quite impressed with the detail. The colors are so festive and pretty and it does look very yummy to eat. Even if you don't create your own gingerbread camper, this recipe offers really cool ideas about making the awesome "extras" in this cute scene, like the campfire and the outdoor mat and chair. Very cool! So, if you're up to the challenge, check out the entire DIY recipe and instructions at Sugar & Cloth. You'll get the baking recipe for the gingerbread, the icing and you can download the camper template too. Here's the list of the edible decor elements and pics to give you a quick glance of the clever candy making methods. One day, we want to try to make our very own Gingerbread RV…fun!
Rug and fence– green sour belts and champagne bubble jelly beans
Tree– waffle ice cream cone covered in green royal icing, and sprinkle bulbs
Tree on top– green rice krispy treat with a pretzel rod trunk and twine wrapped around
Presents– old fashioned candy mix wrapped in twine
Wreath– green rice krispy treat with sprinkles and a red fondant bow
Wheels– gingerbread cookie circles, pink melting chocolates, and jumbo confetti circles
Flamingo– pink jelly bean and white floral stems with pink food marker
Toe hitch– gingerbread V with striped candy cane and pink sprinkle
Fire– candy rocks, pretzel sticks, and orange and yellow ribbon candy
String lights– lime green twine and candied sunflower seeds glued on with royal icing
Lawn chair– woven sour belts, graham crackers, and candy cane feet held together with royal icing
Sand– a mixture of brown sugar and course organic sugar

photos by: sugar & cloth / Jared Smith



Looks amazing, huh? Something that we never would have thought to do. Check out this DIY in its entirety at: