Oops! Stuck or Smashed? Poor RV's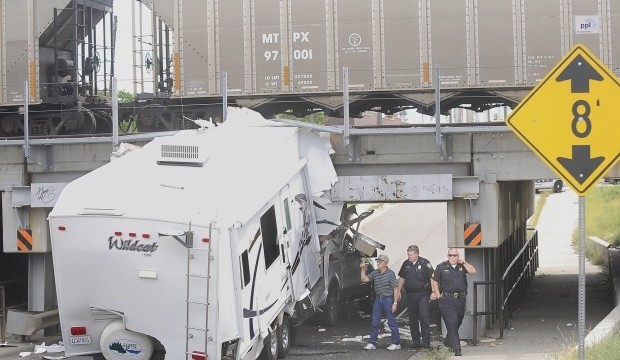 Do you know your RV's height clearance? Even more importantly, do you know your travel route's height restrictions? For all involved, we hope the answer is "YES"! When plotting our travel route, we usually concern ourselves with distance vs time and places of interest to visit along the way. The more miles we gain behind the wheel brings about more opportunity for those "oops moments" to happen…low clearance bridges! Getting stuck, smashing into or scraping under a bridge can define one of the worst driving days for anyone. That's a moment for sure, that we all can live without. This post is a reminder to triple check your route for those height restrictions. According to Interstateguide.com, urban areas may have a 14 ft. overpass while all other overpasses must have a 16.5 ft. vertical clearance. Also, if an overpass cannot meet the 16.5 ft. clearance then there must be an exit ramp/reentry ramp. Some standards may be reduced though for some tunnels or long underpasses, per the interstate guide as well. We would recommend that if you are going to be driving on US/state highways, turnpikes, minor roads and of the like, to check out the highway/road guidelines that are listed online for the state(s) you are driving through. Before our trip to New York, we did a quick online search for highways and bridges in New York and we were pleased to see a list of all the height and width clearance information. That search is definitely time well spent!
At RV Beagle, we love RV's and we sure hope that everyone travels safely! So, please keep in mind this "height safety tip" post and share it with your fellow RV-ers. As we check out some "OOPS" photos below, we salute these RV's with empathy and unfortunately a "Yikes!" expression.
Oops #1 Stuck and then Smashed… Sometimes it's not a question of clearance, but it's being in the wrong place at the wrong time! On Michigan Street bridge in Sturgeon Bay. Police said this RV was past the traffic gate already and then the light turned red for the bridge opening. Yikes! Thankfully, no one was hurt. Traffic was held up for two hours.


http://doorcountydailynews.com
Oops #2 Stuck and Smashed…


Oops #3 Stuck…
https://www.rvupgradestore.com
They must be thinking, "WHAT A DAY! Good grief"! 
If you've had the unfortunate experience of getting your RV "stuck or smashed", try not to dwell on it. Hopefully no-one was seriously injured and your RV was able to journey on. But, in case you still feel horrible and think it's just you having all the bad luck here are some major "OOPS" moments by Professional Drivers (making their living on the road). See, it can happen to anyone…
Professional Vehicle Oops!
1)Stuck Under Bridge & Too Heavy for Bridge!


2)No Commercial Trucks on New York State Parkway! (NO RV's Allowed Either!)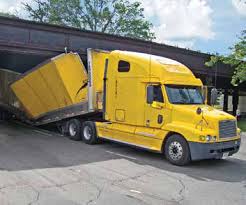 3)Stuck Tractor Trailer under the West Genesee Street railroad bridge in Syracuse, NY.

4)Smashed Truck under Westwood, Massachusetts' East Street Railroad Bridge.

Whoa, that's some "under blunders" for sure. Safe travels, everyone!