RVing with 3 Easy Desserts! Two to Five Ingredients!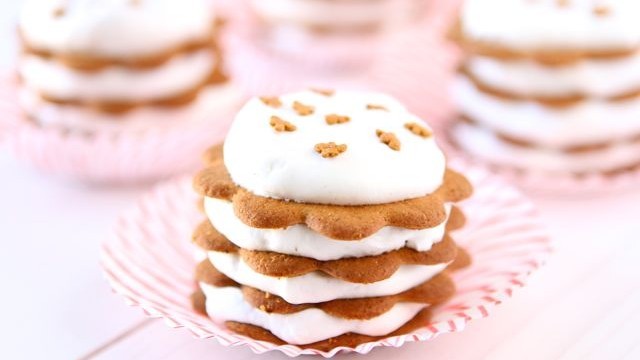 Keep the vibe easy going while RVing, even in the kitchen, and try these 3 EASY desserts! Banana & Peanut Butter Ice Cream, Pumpkin & Caramel Ice Cream Pie, Ginger Icebox Cupcakes… MMMMM! We found these easy and yummy desserts on the site, two peas and their pod. Just love how few ingredients are needed. That's a plus, especially if you don't want to make a big production for making desserts while on the road.
Two-Ingredient Banana Peanut Butter Ice Cream
photo by: two peas & their pod
Did you know that frozen bananas can be made into a smooth and creamy ice cream type dessert? It's super easy.
photos by: two peas & their pod

Only 2 ingredients needed…bananas and peanut butter. To make a serving for 4, use four bananas and 2 tablespoons of peanut butter. First, cut bananas into slices and freeze (freeze time about 2 hours). Next, use a blender or food processor to blend the frozen bananas into a creamy texture (It may take a few turns to smash those bananas up and get the right consistency). Then, add the 2nd ingredient…peanut butter.  Done! This will be a soft serve ice cream consistency. If you prefer a thicker texture, then place it back in the freezer for a little bit.
Ready for Ice CreamPie?
5 Ingredient Pumpkin Ice Cream Pie
two peas and their pod
You need these five ingredients: gingersnap cookies, sugar, butter, pumpkin ice cream and salted caramel sauce. First, make the gingersnap cookie pie crust by mixing the gingersnap cookies (smashed into crumbs 1 1/4 cup or about 30 cookies…save a few crumbs for garnishing the top) with 2 tablespoons of sugar in a medium bowl. Add 5 tablespoons of melted unsalted butter and mix well until all the crumbs are moistened. Pour this mixture in a 9 inch diameter glass pie dish and press the pie crust mixture on the bottom and sides of the dish. Bake for about 10 minutes at 350 degrees F. so crust is firm, then let it cool. Then, place 3 cups of softened pumpkin ice cream onto crust and spread evenly. Drizzle the remaining cookie crumbs on the top and cover (plastic wrap or any cover) and place in freezer for about 2 hours. Once the ice cream pie is firm, it's ready! Now, for the best part…drizzle with caramel sauce! Yum!
two peas and their pod
two peas and their pod
Now, here's a twist on cupcakes.
Ginger Icebox Cupcakes…No Bake!
two peas and their pod
Super simple, no baking and don't they look great? You'll need 1 box of gingerbread cookies (this recipe used Anna's Ginger Thins cookies) and make some whip cream to be layered between the cookies. Let them chill for a few hours so the cookies will soften like a cupcake and you are done! To make the whip cream, use your mixer and mix 2 cups heavy cream, 3 tablespoons powdered sugar, 1/2 teaspoon vanilla extract on high speed until medium peaks form. Then add 1/8 teaspoon ground cinnamon and 1/8 teaspoon ground nutmeg. Lastly, layer about 1 tablespoon of the whipped cream between 4 cookies and top off the cupcake with one more layer of your whipped cream mixture. Place all the cupcakes on a plate or cookie sheet and chill in the refrigerator for at least 2 hours or overnight for the cookies to soften. You can also add sprinkles when they are ready to eat! Makes about 8 cupcakes. Eye catching, huh?
two peas and their pod
two peas and their pod
All these easy recipes are at:
http://www.twopeasandtheirpod.com