WICKED RV LEGO Builds! SWEET!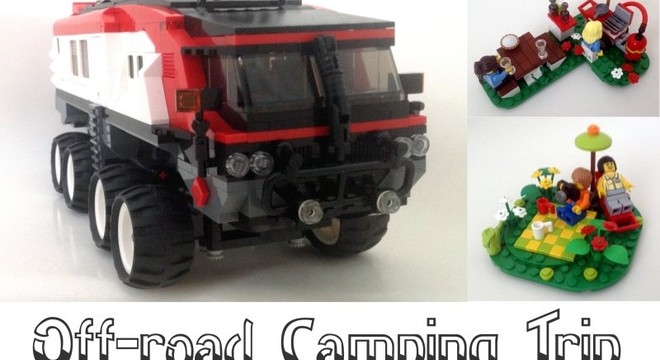 LEGOS ARE AWESOME! RV's can be way more than family vacation vehicles.  Here's some SERIOUS, FUN, SWEET BUILDS!
1) OFF ROAD ENTHUSIASTS!
This cool Off Road RV Camping Trip Kit was submitted on Lego Ideas by sidekick2461. It looks way capable! Special features include a lounge/TV, kitchen, toilet, shower, bedroom with skylight, computer, generator, motorcycle and hoist.  A picnic and barbecue set with six mini figures was also added to this outdoor adventure scene! Very cool!




Click here to see the project and support it to see this kit available for purchase!
https://ideas.lego.com/projects/92226
2) APOCALYPSE? No worries. Survivors reign in this Post Apocalyptic Lego Zombie Custom Build by Lego Will. SERIOUS WEAPONRY here among your home sweet home on wheels! I'd travel with this guy, post apocalypse.

http://bricknerd.com/home/for-all-your-post-apocalyptic-recreational-needs-9-2015?rq=RV
3) More ZOMBIE destroying ahead? Dale's "The Walking Dead"  Winnebago comes in handy! Love the SPLATTER on the RV!
bricknerd.com
bricknerd.com
It is amazing to me how people are able to build something like this with LEGOs, this RV looks just like the one from the show.
http://bricknerd.com/home/winnebago-see-the-world-kill-zombies-29-2013
4) Dinosaur adventure? Place this RV MOBILE LAB from The Lost World in your Dino / Jurassic Park display!
eurobricks.com
eurobricks.com
eurobricks.com
eurobricks.com
I wouldn't want to take this up against any dinosaurs, but it is a  pretty cool rig.
http://www.eurobricks.com/forum/index.php?showtopic=34773
5) More dinosaur love with Legos! Here's another sweet build of the RV Dino lab. Spot on movie reference with the lookout tower. Nice!


http://www.mocpages.com/image_zoom.php?mocid=75298&id=/user_images/13328/12230334332
I would love to have a LEGO replica of our RV, especially if it were available as a kit I could build myself, that is a LEGO kit I would definitely buy.