Pumpkins! Lights! Halloween Campsites!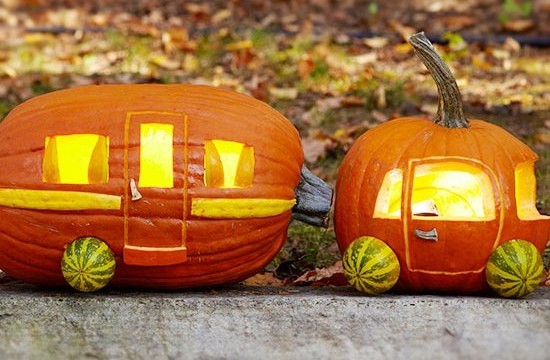 Get your campsite ready for Halloween! It's always fun to walk around a campground and see how creative people can get with their holiday decorations. We love both the fun and cute Halloween set ups and the cool, spooky ones too. One day we hope to try extreme pumpkin carvings! You may have already seen this camper pumpkin duo carving below in magazines, but we thought it was still a cool pic to post!
bhg.com
Check out these two Halloween pumpkin ideas below. We always find it hard to resist buying those cute mini pumpkins at the grocery store.  When we do buy them, they usually sit displayed on a table and although they look cute, a different take for decorating is always welcome. 
1) Campsite Border of Little Lighted Pumpkins!
bhg.com
Simply use small shepherd hooks, flexible craft wire and battery operated tea lights. Grab those tiny pumpkins at the grocery store and carve your fave pumpkin faces!
2) Stencil Pumpkin Carvings!  
Use battery powered tea lights or any light source inside the pumpkins! 
bhg.com
bhg.com
bhg.com
We hope to try these pumpkin stencil ideas for a more unique pumpkin carving this Halloween.  Here, at RV Beagle, we were soooooo excited to find a BEAGLE stencil! How cute is that? There are many other dog stencil designs available too. Download for free at http://www.bhg.com
Also check out this Fire pit of Pumpkins! Just stack the pumpkins to look like a roaring campfire. This is a really neat effect, especially if you have some oddly shaped pumpkins that just don't sit up straight. The variety of sizes also makes for a cool towering effect for a roaring campfire!
After pumpkins, go for the lights! Halloween String Lights!
We are always looking for new lights to hang outside on our awning or flagpole. Some of the easiest lights to use are these string lights below. A neat idea may be to alternate decorative lights like these spider, ghost, witch and pumpkin lights with single colored orange or purple lights for an extra cool glow.  It's easier and possibly cheaper to find plain/single color light strings in any discount store and then use them as background lighting. Your themed lights, like the spider or ghost lights, could be the focus of your light display.
bhg.com
bhg.com
bhg.com
bhg.com
Want a Halloween window display? Try Halloween Window Lights!
bhg.com
bhg.com
bhg.com
bhg.com
These larger lights look cool hanging from your RV's inside window/ on the dash. Putting these lights on a timer can make this an easy and festive display. You'll be seen from a distance. We would like to get the "BOO" light and then hang a large ghost with a string of little white ghosts around / behind it! 
Grab some Halloween packages of spider webbing at the store and place it around the spider web light. Your window will look spooky, cool! Even adding little plastic spiders in the webbing will keep it eye appealing in the daytime.
Hanging the pumpkin light in your front window and above your carved pumpkins can also be very festive! Ideas are really endless. 
These Halloween string and window lights above are available at http://www.oogalights.com